Your Feet Are Our Number One Concern
Let Us Make An Impression On You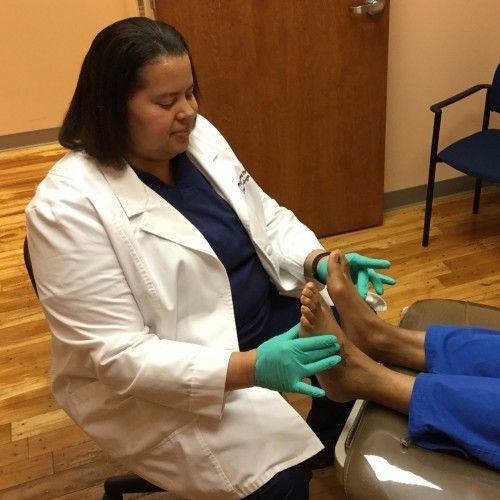 Our feet are more important than the care we give them. Led by Dr. Bessaliea Griffin DPM Footprint Podiatry delivers professional podiatry services for Smithfield residents and residents throughout North Carolina. We are a dynamic and dedicated practice that excels in keeping feet clean and happy.

The main objective of the practice is to provide a complete and professional podiatrist experience year around to every current and new patient. If you are a new patient looking to schedule a foot care appointment with Footprint Podiatry, please click here for patient registration. For more information on our podiatry services and common foot problems, please visit our FAQ page.
Footprint Podiatry is located on the south entrance of Johnston Medical Mall next to the Quick Med. Here we provide area residents with surgical and preventive foot care and help ease the pains that can happen to our feet.
Footprint Podiatry is happy to provide the following medical services for our patients:
Nail Problems/Ingrown Toenails

Diabetic Foot Concerns & Dr. Comfort Diabetic Shoes

Heel & Arch Pains

Bunions & Hammertoes

Skin Problems & Toe Deformities

Neuroma & Forefoot Pains

Ulcers

Foot & Ankle Injuries

Fractures, Sprains & Foreign Body Foot Problems

Bone Spurs

Flat Foot

Custom-Molded Orthotics

Work-Related Injuries

Toenail Trimming, Callouses & Corns

Foot Surgeries

And Many More Services!
Send Us a Message